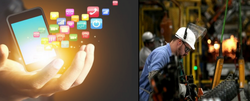 Client
Client is a leading equipment manufacturer and service provider, empower their client's business success by enabling people with leading resources, innovative technologies, products and services to best support their evolving needs.
Challenges
The client was looking for a new business platform to provide Mobile App solution for professional service providers. The proposed system should act as bridge between Customer and Service providers where the Customers can log their issues and request to Vendor fix the issues. Also the client requires the proposed system in MVP (Minimal Viable Product) basis
What We Did
As per the client's requirement we designed and delivered an iOS mobile app with the three main features listed below
Web Admin panel to manage the application
iOS Mobile App for Users (Shop Users)
iOS Mobile App for Service providers
Web Admin Panel Features:
The Admin will have complete control to manage the Application, such that add/ edit the masters and managing related stakeholders.
Shop User Mobile App Features:
User will have option that whether to add/ delete service provider, the payment of service can be given to vendors in offline.
Service Provider Mobile App Features:
Receives push notification for user issues
View/ Contact Store user
Update issue close status
Cancel the Service
Technologies Used
iOS
Benefits
Offline payment
Instant notifications
Immediate response for service