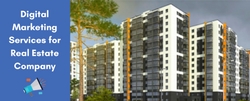 Client
Being one of the leading real estate company, client is a most preferred option for many people who are looking to buy villas & apartments at best price in the market.
Challenges
Client needs digital marketing services to build a repute among prospects. Our digital marketing strategies should provide as much value as possible for instance drive more traffic and generate more prospects.
What We Did
At ANGLER, our digital marketing experts analyzed the client website & did various type of promotions with focus on increasing the website's traffic and conversion. With a focus to obtain potential traffic, valid user experience and convert them a long-term customer, we presented only what users expect from client.
When coming to geographical target, almost most of the people are made aware of the business, its value, ethnicity and the importance of owning a Perfect Home. Ultimately to meet the client's requirement, our tech people increased the organic traffic and conversion to the website from various sources like email, phone calls, property visits and registration.
Technologies Used

Results
Digital Marketing Service has shown up client's business on the top slots of major search engines & has helped them to generate and convert more leads.
Gain Brand Popularity
Global Marketing Presence
Increases client engagement
Increase traffic & conversion
Opportunity to reach new customers